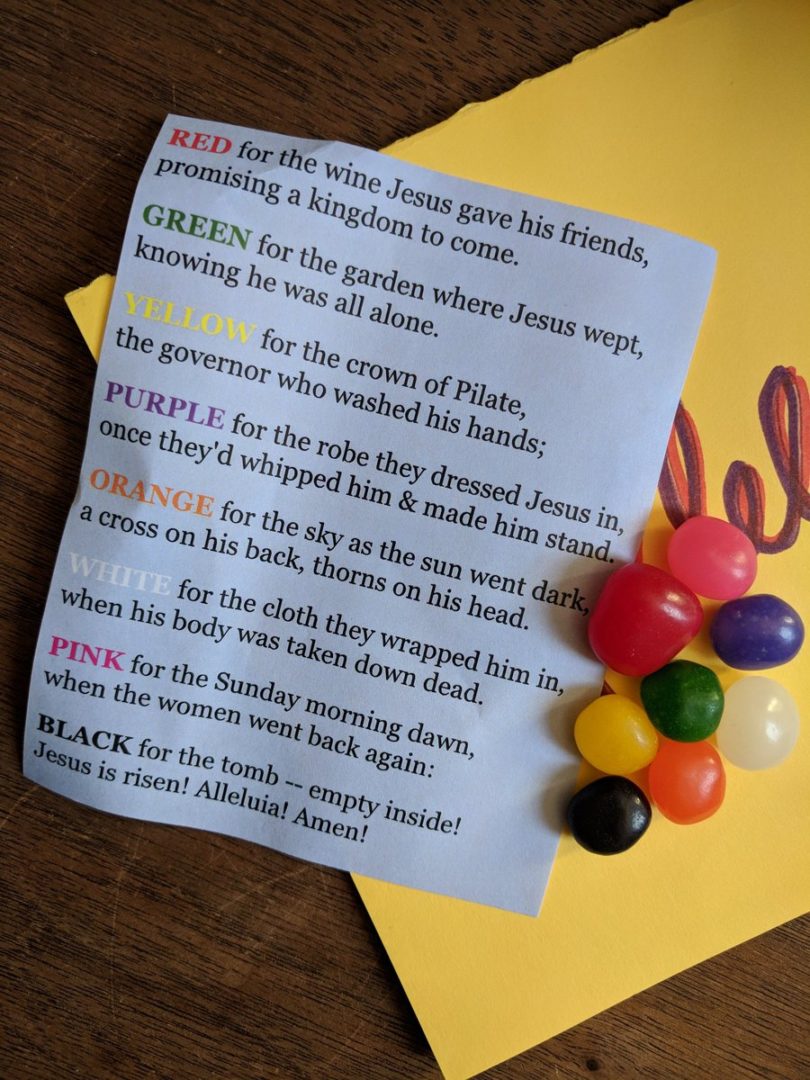 If you're looking for an alternative jellybean poem for Easter, we used this last year at Grace Lutheran in Northeast Minneapolis.
I grew up with the popular "Red is for the blood he gave" version, and I felt very uncertain about passing that on to the next generation. I wanted a poem that reflected the whole of the Easter story, and also didn't rely on black/white sin/grace parallels (which have too often in American religion been a way to reinforce and teach racism).

RED for the wine Jesus gave his friends,
promising a kingdom to come.
GREEN for the garden where Jesus wept,
knowing he was all alone.
YELLOW for the crown of Pilate,
the governor who washed his hands;
PURPLE for the robe they dressed Jesus in,
once they'd whipped him & made him stand.
ORANGE for the sky as the sun went dark,
a cross on his back, thorns on his head.
WHITE for the cloth they wrapped him in,
when his body was taken down dead.
PINK for the Sunday morning dawn,
when the women went back again:
BLACK for the tomb — empty inside!
Jesus is risen! Alleluia! Amen!
A ready-to-print PDF can be found here.
Congregations that are actively affirming of LGBTQ+ people are given permission to reprint and use this content in worship when credit is given to Rev. Emmy Kegler and a link provided back to this page. Congregations without an actively affirming policy are invited to ask for permission.