Theology on Tap
Theology on Tap, Theology Pub, Bible & Brew… the concept goes by many names.  I was first introduced to it as the Progressive Christian Fellowship, a loosely associated group of Olaf students who gathered on Tuesday evenings to drink tea and talk.  We leaders came with a question or a topic, and things spun off from there for the next hour.  We wrestled together with the intersection of faith and life, of logic and story, of theology and Bible, of the contemporary world and the traditions of the church, and everything in between.
Theology on Taps engage in the same practices:  opening a space to all people, from any walk of life, of any faith commitment, to discuss what it means to be a faithful person in the face of the world.  For working adults, it's often easy if the Tap is hosted in a bar or restaurant on a weekday evening.  In other cases, it's better for the group to meet over coffee during the day.  The essential ingredient isn't the brew but the people — a worshipping community (and their friends and family) gathered to discuss the life of faith.
I had the honor of re-starting a Theology on Tap at my internship congregation along with a member who was a deep thinker with a huge heart.  It was an amazing experience to work with him, discussing topics and planning the evening, and we had pretty solid attendance — between 12 and 20 one evening each month, from a church of 120 members.  I've also been able to visit some other Theology on Taps around the Twin Cities, and to work with some of the pastors who lead them.
So here's what I've seen work:
* Build a core group.  Starting small is fine; you can set the tone for the long-term if you lay the foundation well.  Find the philosophers in your congregation, the readers, the writers, the artists, the parents, the lifelong Lutherans, the curious friends and family at the edges.  Get a beer together.  Listen to their stories and their faith walks.  What are the questions bubbling up in your community?  Where are the themes of wondering?  Your leaders don't have to be clergy, or seminarians, or professors or teachers.  Leaders are defined by willing minds and open hearts.  Do they love people?  Can they speak clearly and openly about their questions?  Can they invite others into the space — even if the others disagree?
* Build a relationship with your space.  You're bringing a crowd into a restaurant for a couple hours. Please, please, from someone who has known and loved many servers:  do not do this on a Friday night.  They need that big table.  Nor should you show up to a bar with 15 people unannounced on a Monday.  Best practices looked like:
– We called around to local restaurants, and talked to the manager about a day and time that would be best for them.  Weeknights were usually less busy.  Some restaurants have private rooms or more secluded areas; if we could afford them (or if they were free!) we preferred those, both for our own comfort and to reduce noise level for other restaurant patrons.
– We set a specific day, time, and place and kept it consistent (e.g., 7pm on the first Thursday of every month).
– We set up a Facebook event two weeks before that first Thursday, and invited all past attendees plus anyone else we wanted.
– We called a week before to confirm that we would be bringing a large group at 7pm on Thursday.
– We called the day before to give the closest estimate we could in re: number of people.
– We arrived on time for our reservation.
– We kept our noise level down.
* Build a relationship with your server.  We told our servers why were there, engaged them in conversation, were always polite and had our orders ready.  Hospitality–both giving and receiving–is a central part of the Christian life, and we tried to receive our servers with grace and love.
This last part I cannot emphasize enough, and Rev. Jodi Houge of Humble Walk says it best:  They will know we are Christians by our tips.
Remember this? Don't be this guy.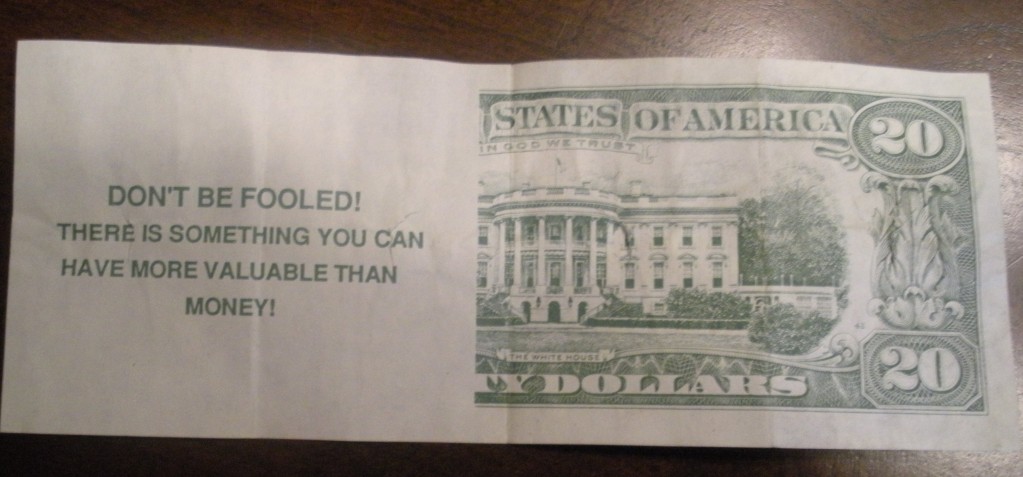 Or this guy.
* Be who you are where you are.
– At Progressive Christian Fellowship, we raised up questions and let the group run.  We rarely came with handouts.  We met in a campus lounge and sometimes brought videos or music.
– With Light of the World, we sat at a long table in the middle of Applebees; often those at one end couldn't hear those at the other, or even in the middle.  We couldn't do a lecture, so we prepared handouts with information and questions.  People gathered into groups of 4-6 and worked through the material together.  We couldn't have played music or videos, but we could put them on the Facebook page.
– At Humble Walk, we have a back room where we can easily have a leader/teacher and small groups at tables.  Many of our presenters were local seminary professors, and they brought handouts.  Music would've been fine, too.
* Prepare your people.  In that Facebook event, we'd often post the theme for the night, and if we'd prepared a handout we tried to upload it before the event (and definitely after) so that people could see what we'd be talking about.
* Set group rules for conversation.  Some of ours looked like:
– We pray before we begin (in one context), because it sets the tone for conversation:  we pray for the Spirit to open our hearts, and we remind ourselves to be kind and compassionate.
– We don't pray before we begin (in another context), because it isolates or turns off the "seekers" who have joined us not as "worshipping members of the community" but as friends and family who want to see what this theology pub thing is all about, but they're not really sure about churchy language, and please don't tell me I'm going to Hell for not being sure…
– We try not to say "Everyone knows…" or "The Bible says…".  We say "I …" or "When I read the Bible I hear…".  We speak for ourselves, and we recognize we speak from our own experience.  We recognize we may not be right — in fact we openly consider the possibility that we could be wrong.
– Everyone has a voice, and leaders guide the group.  Someone may be presenting information, or asking guiding questions, or passing out handouts.  But everyone at the table has something to bring, and their thoughts, questions, convictions, and hopes are a gift to us.  Leaders are not just teachers — they are people with good ears and compassionate hearts.
– Our theology sets the table.  My Theology on Taps have been primarily in Lutheran settings, and that's the perspective that guides the leaders.  Others are welcomed, even desired, but we know also that there is a tradition that longs to speak to us.
– This is conversation, not conversion.  No one should walk away feeling ashamed for what they brought with them.  No one's faith or salvation status would be questioned by the group.  This is a safe space to bring our whole selves — our brokenness, our doubts, our fears, our questions.
– This is group theology, not group therapy.  That same brokenness and fear and questions can make a group unsafe.  We tried to respect each other, to share the time we had together, to not monopolize the conversation with our own agendas or long stories.  This took time, and it took courageous leaders who could steer the conversation back.  It was worth it.
* Be attentive to those for whom this doesn't work.  Parents who can't get babysitters; those in recovery who can't do bars; those who work in the evenings; those for whom a group discussion is overwhelming or terrifying.  We can't plan perfectly nor accommodate everyone, but we can keep the discussion open — posting documents, videos, and reflections to the Facebook page and in the church newsletter, for example.
Every worshipping community is different, and it can be tricky to share handouts and documents that have been planned for one context for use in another.  That said — here are the materials we used at Light of the World's Theology on Taps.
This post liberally borrows ideas from Humble Walk's 
similar post
.
Share your own ideas, experiences, or documents in the comments.